Woodside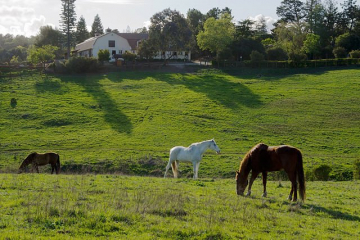 The Woodside area was originally home to natives belonging to the Ohlone tribe. In 1769, led by Gaspar de Portolà, Spanish explorers searching for San Francisco Bay camped at a site near Woodside.
Woodside is located on the Rancho Cañada de Raymundo Mexican Land grant. Woodside is said to be the oldest English-speaking settlement in the southern part of the San Francisco Peninsula. The first English-speaking settlers arrived in the early 19th century to log the rich stands of redwoods. Charles Brown constructed the first sawmill in Woodside on his Mountain Home Ranch around 1838. His adobe house, built in 1839, still stands today. By mid-century, the Woodside area had a dozen mills producing building materials for a booming San Francisco.
In 1849, during the California Gold Rush, 20-year-old Mathias Alfred Parkhurst purchased 127 acres of timberland and named it "Woodside"; of course, this name was kept. By the late 19th century, Woodside was home to country estates. The Sequoia Redwood trees in Woodside are currently 3 generation growth. The first generation of the Redwood trees were used to build San Francisco original homes. After the 1906 San Francisco Earthquake, the lumberjacks returned to Woodside to cut the second growth of redwood so they could be used for the rebuilding of San Francisco again.
In 1909, the Family, a private club, set up camp facilities and rustic buildings in Woodside at the Family Farm, a rural retreat used by club members for recreation. Gatherings at the Family Farm include an annual Farm Play, written and performed by members. In 1912, the Family pooled funds to build Our Lady of the Wayside Church in Portola Valley, designed by 19-year-old Timothy L. Pflueger, his first commission.The historic building was repaired at a cost of US$600,000 after the 1989 Loma Prieta earthquake.
Woodside was incorporated in 1956 to prevent urbanization, and it still retains a rural residential character, though it is a short commute to Silicon Valley.
Today, Woodside is among the wealthiest small towns in the United States.
The intentionally small business district includes: a few restaurants; a grocery store; a saloon; a hardware and horse tack store; an art gallery and picture framing store; a home and garden store; a cleaner; and a post office. Outside of the business district are the Stillheart Institute educational event center, Skywood Trading Post, the Mountain Terrace event center, and includes restaurants including the Michelin starred Village Pub, and Buck's of Woodside restaurant, known among Silicon Valley entrepreneurs as the location where many VC investment deals have been signed.
Horses are part of the local culture. Numerous residents keep horses, and the town government maintains a network of horse trails. Some resident's homes are even considered farms. The town is also quite popular among local cyclists and draws them in large numbers on weekends. The most popular road cycling routes include Old La Honda Road, King's Mountain Road, Cañada Road, Southgate Drive, Skyline Boulevard and Highway 84. The Tour of California bicycle race includes several roads along and adjacent to CA-84 and Skyline Boulevard.
Woodside is home to a number of open space preserves, including the Purisima Open Space (which is part of the Midpeninsula Regional Open Space), where both horseback riding and bicycling is allowed. For mountain biking, the famous Skeggs Point is located in Woodside along Skyline Boulevard.
The Woodside Fire District is a special district serving Woodside, Portola Valley and unincorporated areas including Ladera, Los Trancos Woods, Vista Verde, Emerald Lake, Menlo Park (Unincorporated) and Skyline/State Route 35 area.
Dr. Carl Djerassi founded an artists' colony in the community in memory of his late daughter. The Djerassi Resident Artists Program is one of several Bay Area programs housing artists in an environment where they can be creative without worrying about how to pay the rent. Others include Villa Montalvo in Saratoga and Marin Headlands Center for the Arts north of San Francisco. It is adjacent to the campus of Stanford University, east of the town.
Featured Woodside Homes For Sale