Contra Costa County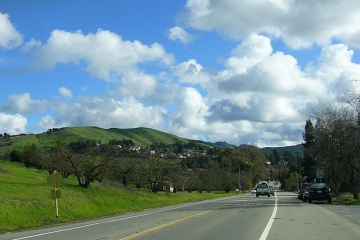 Contra Costa County was one of the original 27 counties of California, created in 1850 at the time of statehood. The county was originally to be called Mt. Diablo County, but the name was changed prior to incorporation as a county. The county's Spanish language name means opposite coast, because of its location opposite San Francisco, in an easterly direction, on San Francisco Bay. Southern portions of the county's territory, including all of the bayside portions opposite San Francisco and northern portions of Santa Clara County, were given up to form Alameda County effective March 25, 1853.
A number of large companies followed their employees to the suburbs, filling large business parks. The establishment of a large, prosperous population in turn fostered the development of large shopping centers and created demand for an extensive supporting infrastructure including roads, schools, libraries, police, firefighting, water, sewage, and flood control.
The establishment of BART, the modernization of Highway 24, and the addition of a third Caldecott Tunnel all served to reinforce the demographic and economic trends in the Diablo area, with cities such as Walnut Creek becoming edge cities.
The central county cities have in turn spawned their own suburbs within the county, extending east along the county's estuarine north shore; with the older development areas of Bay Point and Pittsburg being augmented by extensive development in Antioch, Oakley, and Brentwood.
The effects of the housing value crash (2008–2011) have varied widely throughout the county. Values of houses in prosperous areas with good schools have declined only modestly in value, while houses recently built outlying suburbs in the eastern county have experienced severe reductions in value, accelerated by high unemployment and consequent mortgage foreclosures, owner strategic walk-aways, and the too-rapid conversion of neighborhoods from owner-occupancy to rentals.
Featured Contra Costa County Homes For Sale