Monterey County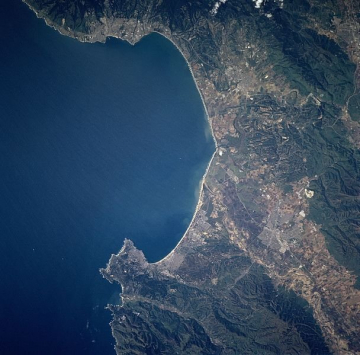 Monterey County comprises the Salinas, CA Metropolitan Statistical Area. It borders the Monterey Bay. The northern half of the bay is in Santa Cruz County. Monterey County is a member of the regional governmental agency, Association of Monterey Bay Area Governments.
The coastline, including Big Sur, State Route 1, and the 17 Mile Drive on the Monterey Peninsula, has made the county world famous. The city of Monterey was the capital of California under Spanish and Mexican rule. The economy is primarily based upon tourism in the coastal regions and agriculture in the Salinas River valley. Most of the county's people live near the northern coast and Salinas Valley, while the southern coast and inland mountain regions are almost devoid of human habitation.
Monterey County was one of the original counties of California, created in 1850 at the time of statehood. Parts of the county were given to San Benito County in 1874.
The county derived its name from Monterey Bay. The bay was named by Sebastián Vizcaíno in 1602 in honor of the Conde de Monterrey (or Count of Monterrey), then the Viceroy of New Spain.[4] Monterrey is a variation of Monterrei, a municipality in the Galicia region of Spain where the Conde de Monterrey and his father (the Fourth Count of Monterrei) were from.
Featured Monterey County Homes For Sale