Saratoga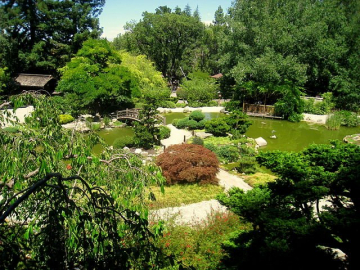 Tucked away in the foothills of the Santa Cruz Mountains of California, Saratoga is a lovely residential community with a small-town feel. The City is well known for its excellent schools, fine dining, unique shops, and distinctive cultural institutions. Saratoga offers a high quality of life to its residents and a chance to escape the hustle of Silicon Valley.
Saratoga is vastly different from the town that started over 150 years ago, but it remains a thriving community. The sawmill, lumber and tanning industry and most of the orchards may be gone, but the city retains the character of a small town tucked away in the trees of the Santa Cruz Mountains.
Tranquil and beautiful today, it's hard to imagine Saratoga, California's start as a wild frontier town and an early hub for lumber and tanning. When learning about Saratoga, it's clear that the spa tradition began here early, with a mineral springs resort that welcomed San Franciscans until the turn of the century. One of the oldest California winemaking regions, Saratoga's beautiful climate once made it an agricultural paradise lush with apricot, plum and cherry orchards.
Today Saratoga celebrates the ultimate California lifestyle. This is a place where visitors and residents alike pursue their passion for fine living–farm-to-table food, fine wine, spa-going, world class concerts and outdoor recreation. This lovely small town at the base of the Santa Cruz Mountains sits on the edge of Silicon Valley, but its miles away in spirit.
Saratoga's famous concert series at the Mountain Winery and Montalvo Center for the Arts attracts fans from all over the Bay Area. Romantics and epicures alike love its restaurants..
One of the National Trust for Historic Preservation's premier sites and nearly a century old, Hakone Gardens is the oldest Japanese and Asian estate, retreat and gardens in the Western Hemisphere: 18 acres of magnificent beauty nestled in the verdant hills of Saratoga overlooking Silicon Valley.
Featured Saratoga Homes For Sale