Placer County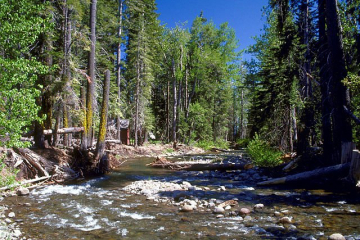 Gold mining was a major industry through the 1880s, but gradually the new residents turned to farming the fertile foothill soil, harvesting timber and working for the Southern Pacific Railroad. Auburn was settled when Claude Chana discovered gold in Auburn Ravine in May 1848 and later became a shipping and supply center for the surrounding gold camps. The cornerstone of Placer's beautiful and historic courthouse, which is clearly visible from Interstate 80 through Auburn, was laid on July 4, 1894. The building itself was renovated during the late 1980s and continues to serve the public today with courtrooms, a historic sheriff's office and the Placer County Museum. Roseville, once a small agricultural center, became a major railroad center and grew to the county's most populous city after Southern Pacific Railroad moved its railroad switching yards there in 1908.
Loomis and Newcastle began as mining towns, but soon became centers of a booming fruit-growing industry, supporting many local packing houses. Penryn was founded by a Welsh miner, Griffith Griffith, who turned from mining to establish a large granite quarry. Rocklin began as a railroad town and became home to a number of granite quarries. Lincoln and Sheridan continue to support ranching and farming. Lincoln also is the home of one of the county's oldest businesses, the Gladding, McBean terra cotta clay manufacturing plant established in 1875.
In 1960, the 1960 Winter Olympics were hosted in Squaw Valley, which is located in Placer County.
Featured Placer County Homes For Sale